The below of picture is named waste plastic to oil plant for disposal waste plastic, which is among the best sellers throughout year 2014.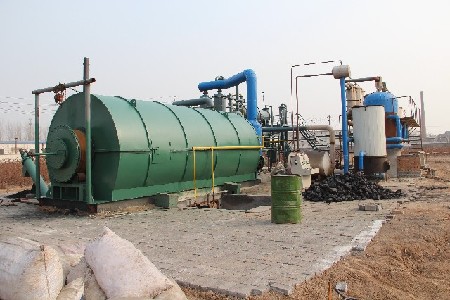 Plastic to oil plant
Waste plastic to oil plant is majoring in pyrolyzing used plastics to kinds of valuable substances under normal pressure which can contain 8-10tons of waste plastic, whole or cut ones, large or small, and run about 23hours continuously within one day with about 2 people operate. The valuable outputs are following: largest amount of plastic crude oil, carbon black.

Technically, plastic to oil plant composed of more than one thousand components, among which are large, and others are precise. Among the large units, most are patented products with BV, CE, and ISO to proving its safety and quality guarantees. Safety and quality issues are always the most concern of Henan Doing Mechanical Equipment Co., for every life is incomparable.

In the meantime, a plenty of advantages are absolutely not ignored. Safe, there are at least three main safety devices, which are connected with the reactor and cooling system, to avoid syngas going back to the reactor causing accidental explosion; besides, several safety valves are working together with the alarms to keep the reactor running under normal pressure in case the workers are absent of the site unexpectedly. Environmental friendly, chemical water is employed in dedusting system to cleanse the smoke to steam, and waste water from the cooling system and syngas from burning processing both can be recycled to the reactor and go back to the cooling system, such as heating the reactor and run as circulating cooling water again; thus air and water pollution are avoided. Energy-saving, used circular water from the cooling system and syngas both can be reused to save a lot of fuel energy and clean water, therefore reducing a large amount of cost for clients.
Besides, the available markets for the above outputs are not hard to search, actually very broad. First, the fuel oil from waste plastic can be sold to manufacturers such as power plant, glass factory, cement factory, ceramic factory, and boiler factory etc. Second, plastic carbon black can be processed to make briquette and rubber in a unique formula with good price. All the outputs have good selling lines, plus most plastic to oil plant run in industrial zone which include huge markets.