Currently, more and more people used the tyre recycling pyrolysis plant to make tyre oil from waste tyres. This obtained tyre oil can be used in factories as heating fuel, such as glass factory, cement factory, etc. Therefore, tyre oil has a good price in the market. Some investors who want to do this project may wonder how is tyre oil made and what is tyre oil manufacturing process. Below I will make a detailed introduction for reference.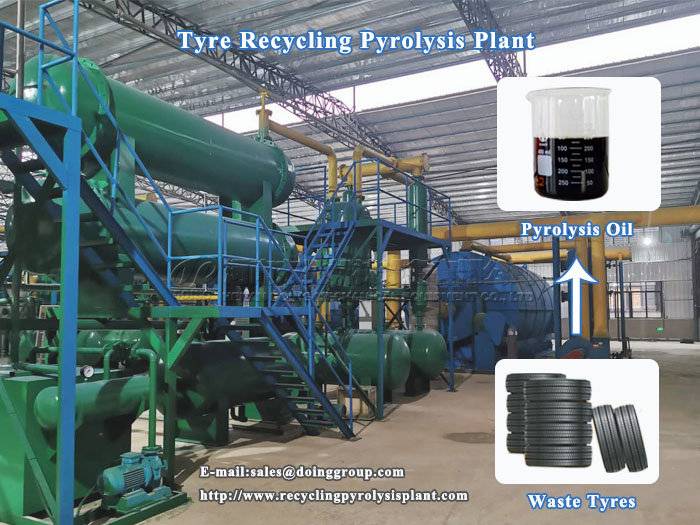 Tyre recycling pyrolysis plant
Main tyre oil manufacturing process of tyre recycling pyrolysis plant:
1. Put waste tyres into the pyrolysis reactor, before that, you can choose to crush the tyre;
2. Heat the pyrolysis reactor, and the waste tyres will be evenly heated to a certain temperature for pyrolysis reaction. With the occurrence of pyrolysis reaction there will be oil gas generation. Oil gas will be cooled into liquid oil through the cooling system;
3. There are 5% non-condensable gases in the oil gas mixture, whose composition is mainly methane, which will be recovered into the furnace of the heating reactor as auxiliary heating fuel;
4. After the pyrolysis process is completed, the reactor is cooled, and the residue (carbon black) in the reactor is finally discharged to prepare for the second furnace operation.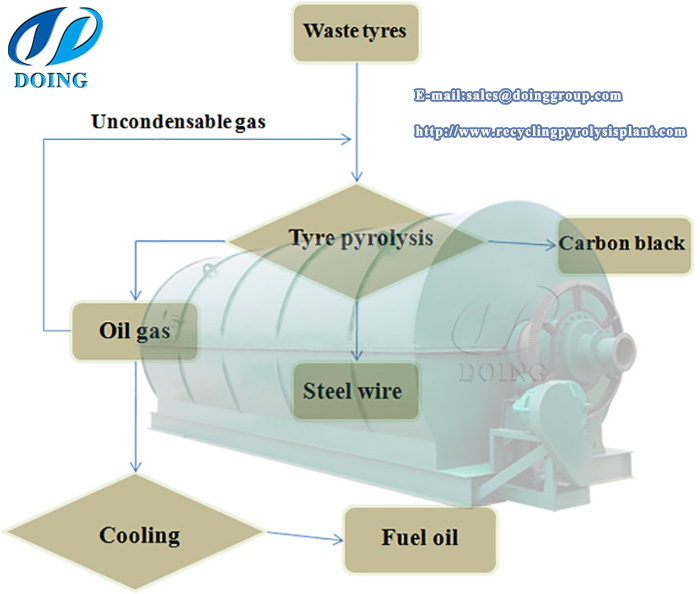 Tyre oil manufacturing process of tyre recycling pyrolysis plant
This tyre oil manufacturing process is performed at a slight negative pressure, which ensures the safety of tyre recycling pyrolysis plant entire operation. At present, tyre recycling pyrolysis plant is the most widely used equipment to make tyre oil which has the advantages of less investment and quick cost recovery.
Our company DOING has been specialized in the development and manufacture of tyre recycling pyrolysis plant for more than 10 years. For tyre oil manufacturing process, we have been constantly improving. It can be said that the current manufacturing technology has been very skilled.
If you would like to invest in tyre recycling pyrolysis plant or know more details about tyre oil manufacturing process, please contact us. Our professional engineers will reply to you within 24 hours.