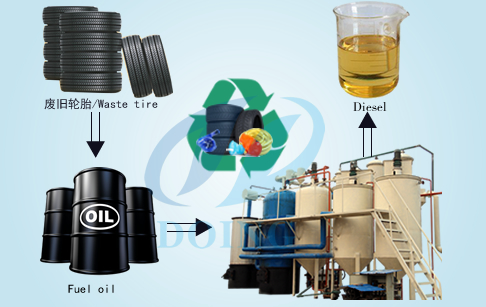 Tyre pyrolysis oil to diesel machine
Pyrolysis oil is also called furnace oil; it is produced by waste pyrolysis plant. It mainly refers to tyre oil, plastic oil, rubber oil, as well as biomass oil. Pyrolysis oil cannot be used for vehicles, and it mainly used as fuel oil for heating furnace in metallurgical refinery. But if pyrolysis is refined by conversion of pyrolysis oil to diesel plant, it can be used directly for vehicles as fuel oil. Diesel oil and gasoline refined from pyrolysis oil have broad market prospects and huge economic benefits.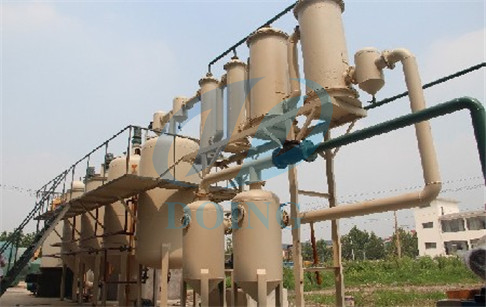 Tyre pyrolysis oil to diesel machine
Tyre pyrolysis oil to diesel?

1. Pump raw material into distillation reactor by oil pump. Then close the feeding inlet to totally sealed. (Continuous plant adopts automatic feeding device);

2. Use coal/wood/natural gas/fuel oil/electricity to heat the reactor, and the liquid oil will slowly become oil gas, which will be liquefied into fuel oil by the cooling pipe and condensers and then go into oil tank. For getting higher quality diesel, you are required to control the temperature over 150 Celsius degrees. When the temperature decreases to below 150 Celsius degrees, the gasoline will be cooled out;

3. Some gases like Methane, Ethane, Propane, Butane cannot be liquefied will be recycled into the furnace for heating the reactor;

4. It will produce some smoke when fuel materials are burnt. The smoke will be processed by dedusting system completely;

5. The exhaust gas will go into the chimney sucked by draft fan, before emission the exhaust gas will become steam, no pollution.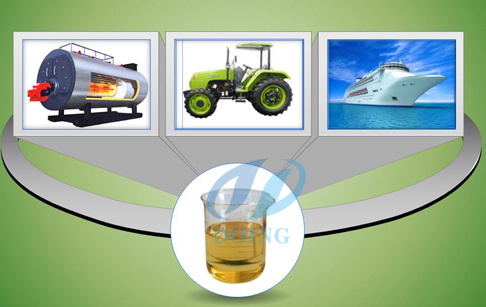 Diesel fuel application
The tyre pyrolysis oil to diesel can purify waste tyre oil, plastic oil, waste engine oil, the final diesel can be used for tractors, trucks, and diesel oil generators, ships etc.