Plastic waste is a major environmental concern, and finding suitable ways to recycle it is crucial. One innovative solution is the use of plastic pyrolysis machines, which can convert plastic waste into valuable fuel oil. To grasp the great business opportunity, Henan Doing Company has successfully developed the new-generation waste plastic to oil pyrolysis machine for sale now.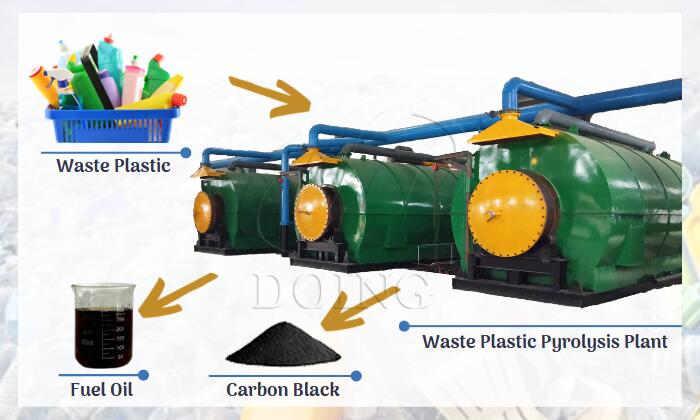 Waste plastic to fuel oil and carbon black pyrolysis macine
DOING waste plastic to oil pyrolysis machine (also known as the plastic to oil conversion machine), is a kind of recycling machine that is used to dispose of waste plastic, waste tire, waste oil sludge, coal tar oil, etc into fuel oil.
This plastic to oil pyrolysis machine can process all kinds of waste plastics, such as waste plastics film, plastic bags, snack boxes, plastic foam, all kinds of electrical appliance shells, as well as particles of plastic products. All the plastic waste can be fed into pyrolysis reactor directly. Different kinds of plastics have different oil yields as the following picture shows and the PVC and PET plastic are not suitable for pyrolysis into fuel oil.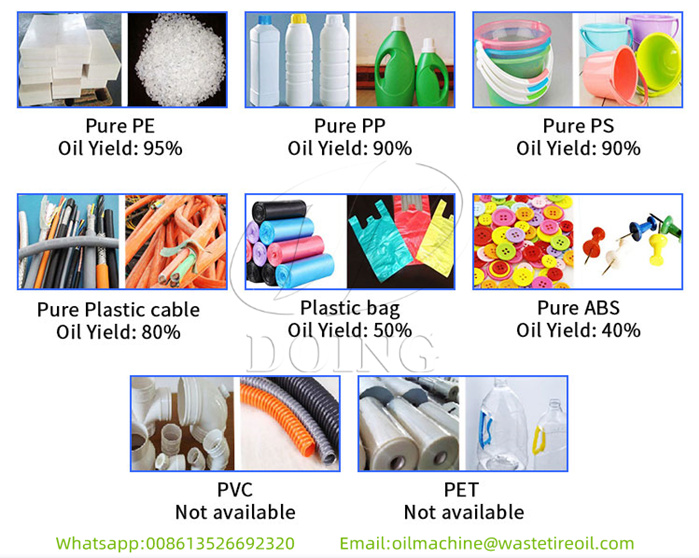 Pyrolysis oil yields of different types of plastics

And the common waste plastic to oil recycling process of DOING pyrolysis machine is as follows: waste plastic collection and feeding---heating pyrolysis machine---waste plastic pyrolyzed into oil gas---oil gas cooling---get liquid fuel oil---exhausted gas purification.
To meet different customers' demands, we have designed four models of our plastic to oil pyrolysis machine for sale, capacity varying from 100KG to 50+TPD. The pyrolysis machine models includes: skid-mounted(frame/container/modular) type, batch type, semi-continuous type and fully continuous type.
You can choose the machine according to the capacity as well as your budget and plastic recycling requirements. Our waste to oil pyrolysis machines have been exported to 100+ countries and regions in Europe, Middle East, Southeast Asia, Africa, South America, etc.
If you want to know more about plastic to oil pyrolysis machines, please feel free to contact us. Favorable quotations and all-around technical services will be provided!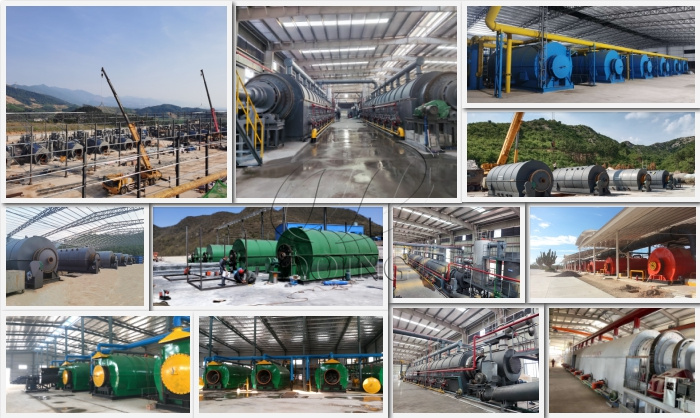 Pyrolysis machine project cases installed by DOING Company

Advantages of DOING Plastic to Oil Machine for Sale:
The waste plastic to oil pyrolysis machine has become more and more popular all over the world because it has been designed with various advantages:
1. Turning waste into wealth
The plastic into oil pyrolysis machine for sale has introduced the newest pyrolysis technology, which can convert waste plastic to fuel oil(which can be refined into diesel fuel by our waste oil distillation plant), carbon black and combustible gas. All the final products are very useful and have wide applications. By investing in the plastic to oil business, our customers can profit a lot; at the same time, it can also reduce waste plastic pollution as well as make contribution to the environment.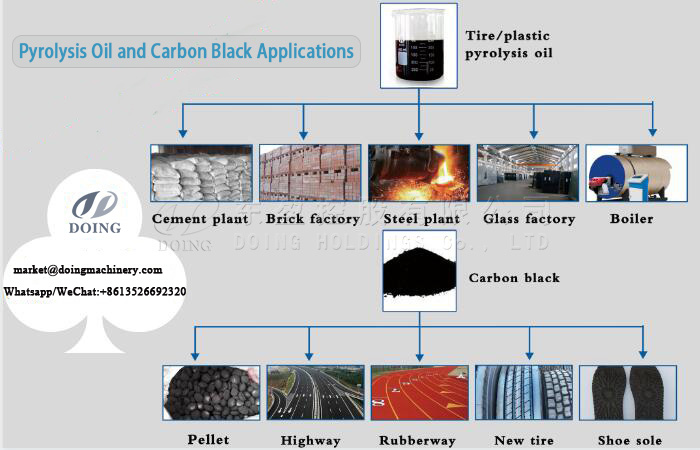 Waste plastic pyrolysis machine final products applications

2. High oil output rate
DOING plastic to oil pyrolysis machine is equipped with multiple-stage professional industrial condensers, which has larger cooling area and better cooling effect.
3. Safe and environmentally friendly
The plastic to oil pyrolysis machine is equipped with mature safety devices (alarm for over temperature and pressure, auto pressure releasing system, extra gas recycling system, fire fighting devices) and advanced dedusting system (dust chemical removing tank, ceramic ring filtering system and alkali sprayers), which will guarantee safety, energy saving and no pollution in the conversion of plastic waste to fuel oil process.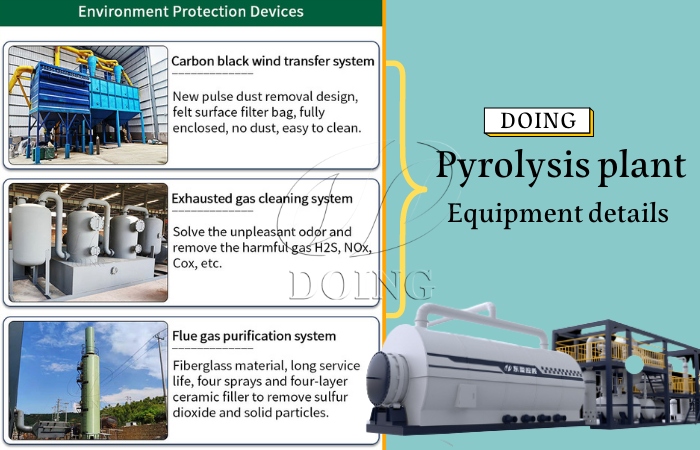 DOING waste plastic to oil pyrolysis machine environmental device

4. Advanced systems
The plastic to oil pyrolysis machine for sale manufactured by DOING has advanced systems: pyrolysis reactor, discharging system, environmental protection system, as well as exhaust gas recycling system.
The latest reactor design can lengthen the life span of the main reactor for an extra 2-3 years. The service life of our pyrolysis machines can reach as long as 5-8+ years, which will save money for customers to maintain and update the machines. The whole plastic to oil machine for sale has simple operation and convenient maintenance, which can save operation costs.