Recently, due to the high profits of pyrolysis project, many investors want to get into pyrolysis industry. Where to buy a high quality waste tire recycling pyrolysis plant has become a key issue. As a manufacturer with 10 years of experience, DOING is definitely a suitable pyrolysis plant manufacturer you should consider.
Who are we?
Henan Doing mechanical equipment co., ltd, as a domestic enterprise with rich experience in the research of waste tire pyrolysis technology, has been trusted for 10 years. It was founded in 2011. DOING company has been committed to the research and development, design and production of machinery and equipment for nearly 10 years. We not only have a professional team of engineers to carry out technical research, but also an experienced installation team to install and debug the machine, and provide a full range of after-sales service to train workers on the customer side.
DOING factory
What have we done?
Over the past decade, DOING waste tire recycling pyrolysis plant export and installed in more than 60 countries and regions, mainly including India, Burkina Faso, Kyrgyzstan, Malaysia, the Philippines, Vietnam, China, Pakistan, Italy, Romania, Hungary, Lebanon, Russia, Turkey, Kuwait, Iraq, Iran, Jordan, Spain, Czech, Ecuador, Guatemala, Haiti, Mexico, Peru, Brazil, Argentina, Nigeria, Ethiopia, South Africa, Greece and so on. Here are some pictures of previous installations.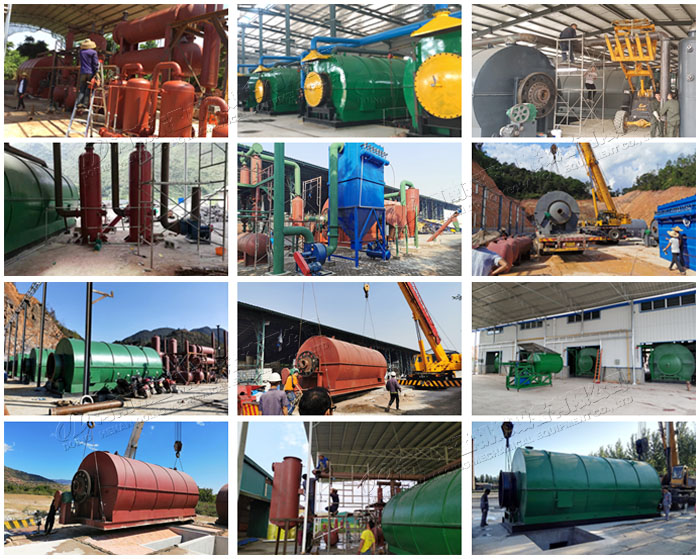 DOING waste tire recycling pyrolysis plant installed aroud the world
Why do more customers choose us?
The majority of customers choose DOING waste tire recycling pyrolysis plant, not only because of the unique advantages of our pyrolysis plant, but also because we provide good service. DOING company to provide customers with pre-sale, sale, after-sales one-stop service, including pre-sale equipment function and use of the market, equipment manufacturing materials and production principles, and after-sales delivery, on-site installation, training workers, technical support and other services. Of course, our factory has strict quality control in the production process, and each produced equipment has to go through a series of checks to monitor the quality of the equipment, which makes our waste tire recycling pyrolysis plant exported to many countries, and won the praise of many customers.
DOING waste tire recycling pyrolysis plant unique advantages
1. Product quality assurance and technical innovation
CE certification technology :ISO 9001:2008ISO 14001:2004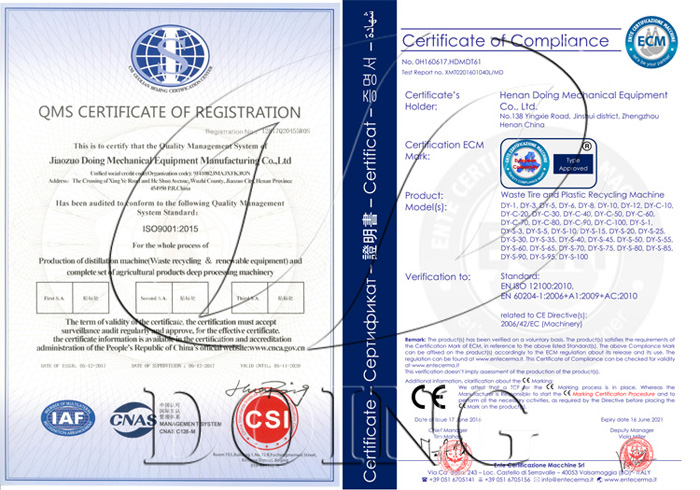 Relevant certificate of waste tire recycling pyrolysis plant
2. Rich experience: completed equipment installation and technical guidance in more than 60 countries and regions
In the past 10 years, DOING waste tire recycling pyrolysis plant has been sold to more than 60 countries and regions, and has completed installation and technical guidance.
3. Comply with environmental and safety requirements
Our waste tire recycling pyrolysis plant is designed with environmental protection devices and safety devices. For example: oil-water separator, negative pressure device, deodorization system, air transport system, etc.
4. On-site installation service
We have experienced installation engineers, after the customer purchase equipment can provide on-site installation guidance.
5. Transferable location
If the waste tire recycling pyrolysis plant you purchased needs to be expanded and transferred after a period of operation, we can send engineers to guide the disassembly and re-installation of the equipment to avoid improper operation and unnecessary damage to the equipment.
6. Recyclable resources to reduce operating costs
The waste gas from tire pyrolysis can be recycled and used as fuel for the next batch of heating furnaces. Save heating fuel and reduce operating cost.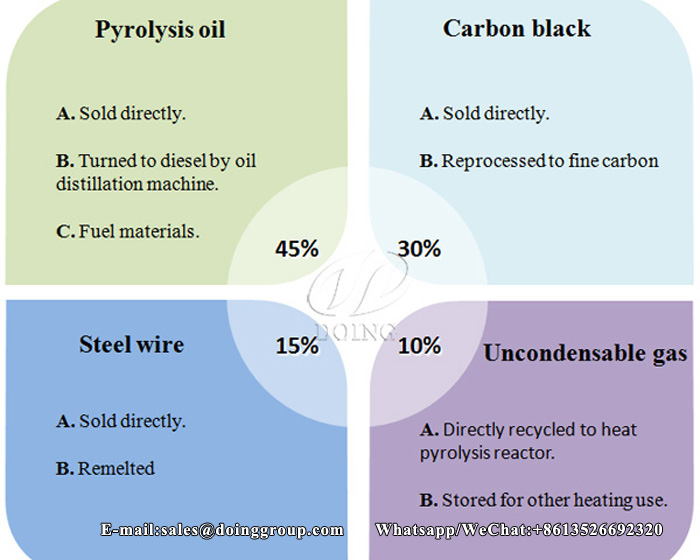 Final products and their uses
What will you get?
After the treatment of waste tire recycling pyrolysis plant, waste tires or plastic will be completely recycled into fuel oil, the rest is black carbon and gas. The resulting products have a wide range of uses in life. This pyrolysis technology not only provides a way to solve the problem of solid waste or household waste pollution, but also provides a promising investment market for many investors.
Henan DOING welcomes you to visit at any time, and you can also contact us directly. We sincerely look forward to cooperating with you.