More and more investors are focusing their eyes on starting waste tire recycling business to convert the waste tires into treasures---fuel oil, steel wire and carbon black. If you decide to start the profitable waste tire recycling business, then you require to consider the following three factors.
First, consider markets of collecting waste tire and selling end products.
The prices of scrap tires in different areas are different, so you can choose a scrap tire supplier with a relatively suitable price by comparison. As for the end products, the obtained pyrolysis fuel oil can be used in various heavy industrial plants. Besides that, you can also obtain steel wire and carbon black. Customers can find out the price of end products in advance and find buyers who can offer a favorable price.
Waste tire pyrolysis plant end products
Second, consider the location of the waste tire recycling plant and learn the local policy.
The plant can be built in places with convenient transportation, away from residential areas, while also taking into account the availability of water and electricity. For example, electricity in most parts of Africa is unstable, so to avoid power outages during equipment operation, it is best to prepare a small generator in advance. Also consider the type of fuel for heating the equipment. For example, the Bangladeshi government stipulates that new factories cannot use natural gas as heating fuel, so customers who need buy oil-burning burners can use tire oil as heating fuel.
Third, consider choosing the waste tire to pyrolysis oil recycling equipment with guaranteed quality and safety.
Appropriate equipment should be selected by comparing the qualifications of equipment suppliers, factory strength, equipment manufacturing design, and different configurations of equipment. In addition, you has better take into account the after-sales installation of the equipment. Due to the epidemic, most companies cannot send installation engineers to install equipment abroad, so choose some equipment suppliers with foreign engineers, so as to ensure that you can install and operate the waste tire to ppyrolysis oil recycling equipment in time to avoid the project duration is extended, and the best period of profit is missed.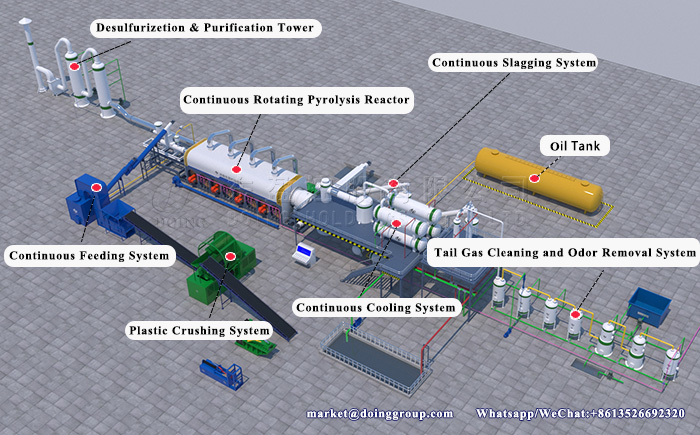 Waste tire pyrolysis equipment
Henan Doing Company has been engaged in the fabrication and installation of full continuous type and batch type waste tire pyrolysis plant for 10+ years. And we have helped customer in more than 90 countries and regions install the waste tire pyrolysis plant. So feel free to contact us for professional suggestions and the equipment details!