1. Now what are popular waste tire recycling options available in India?
①Collection and storage of waste tires
Waste tires are collected from various sources, such as tire dealers, garages, and scrap yards. They are then sorted based on their size, type, and condition.
②Tire retreading business
Retreading is a process of reusing the worn-out tire by replacing the worn-out tread with a new one. Retreading involves buffing the tire to remove worn-out tread, applying new tread material, and curing the tire in a specialised oven.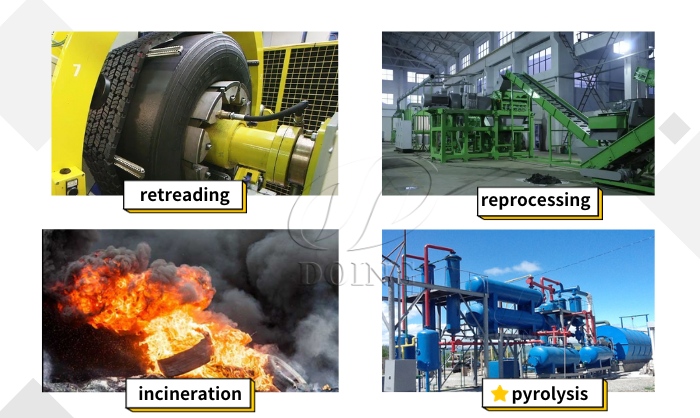 Waste tire recycling ways
③Mechanical recycling business
Mechanical recycling involves shredding the waste tires into smaller pieces and using them as raw material in various applications, such as playground surfaces, sports fields, and road construction. Some waste tires are reused or repurposed, such as by converting them into tire swings, planters, and other decorative items.
④Waste tire oil pyrolysis business
Tyre pyrolysis oil is made by pyrolysis technique in India, which involves heating waste tires without oxygen (anaerobic process) to break down the complex organic compounds into simpler molecules, such as pyrolysis oil, carbon black, steel wire, syn-gas, etc.
2. Which waste tire recycling way is more applicable in India?
Tire pyrolysis technology is one of the best uses for disposing of tire waste. Let's try to answer this by pointing out the advantages of starting this WTE(waste to energy) plant.
(1)Environmental and economical benefits: waste tyre oil pyrolysis plants help dispose of waste tyres in an environmentally sound manner and can generate handsome profit for the plant owner as well.
(2) Produce alternative energy: Tyre pyrolysis plant can produce tyre oil that can be used as liquid fuels in fueling foundries and boilers in power plants and for industrial furnaces due to their higher value and low ash content when compared to coal.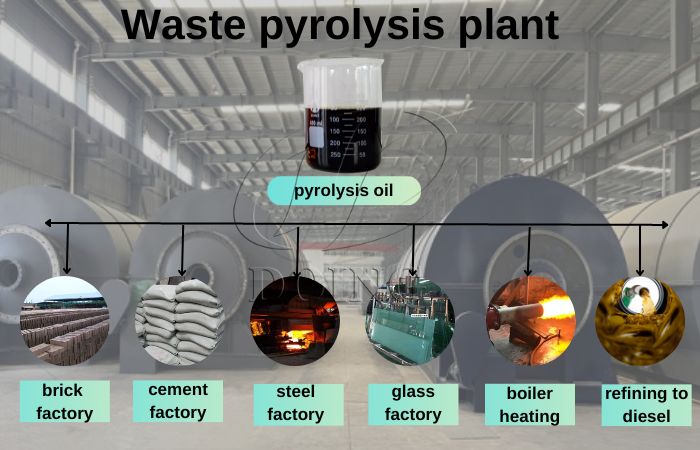 Tire pyrolysis oil applications
(3) Wide choices: Tire oil pyrolysis ways is suitable and easy-handling for most waste tyre recycling business investors. For one reason, there is almost no need for waste tyre selection and cleaning before pyrolysis, and you don't need to spend much energy. And for tire oil pyrolysis plant, there are various machines with the small capacity of 500kg to big scale capacity of 50Tons to choose from.
3. How to start a waste tire oil pyrolysis plant in India?
Now coming to the central issue of this topic, how to start tire oil pyrolysis plant in India. Henan Doing Company listed the following 5 steps for your reference:
Step 1 is conducting market research. It is essential to conduct proper market research to identify the sourcing of waste tyres, the market for the product, the price and other competing products in the market. This will help you determine the potential profitability of the business.
The next step is selecting a suitable location. You must select a suitable location for your tyre pyrolysis plant that is easily accessible and has adequate infrastructure, such as power and water supply. The site should also comply with local zoning regulations and environmental guidelines.
The next stage is arranging the finances and purchasing pyrolysis equipment. You will need to purchase the pyrolysis equipment required for the tire oil pyrolysis process, such as a pyrolysis reactor, condenser, carbon black collection system, storage tanks, environmental protection system, etc. You may also need to buy auxiliary equipment, such as a feeder, tire shredder, steel wire drawing machine, etc.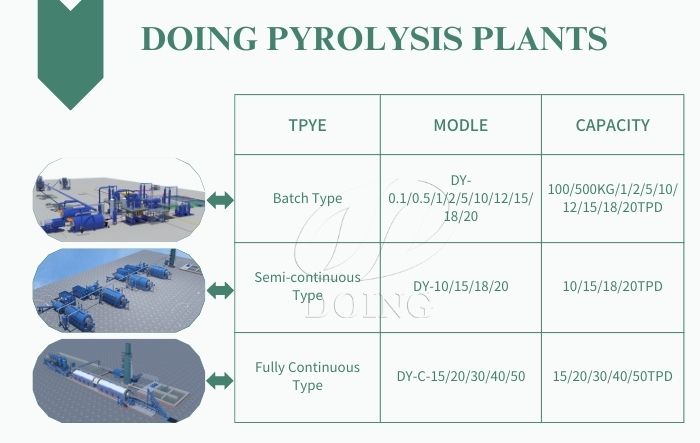 Different types of tire pyrolysis equipment for sale
Step 4: You will need to hire personnel to operate and manage the tire oil pyrolysis plant. This may include a plant manager, operators, maintenance personnel, and administrative staff.
Lastly, entrepreneurs must obtain the necessary licenses and permits for setting up tire oil pyrolysis plant. This list of licenses and permits can include business registration, pollution NOC from SPCB/ PCC, Fire NOC, factory license, MSME Registration, etc.
Henan Doing Company has customized suitable waste tyre recycling solutions and supplied high quality tyre oil pyrolysis equipment for many Indian cutsomers. For more pyrolysis equipment details and related project set up guidance, please don't hesitate to contact us.