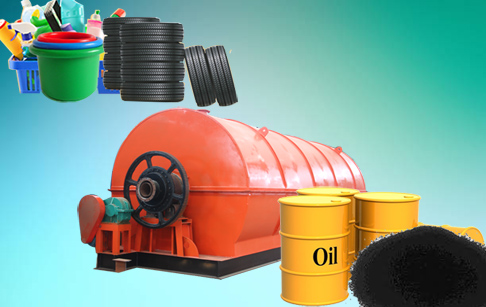 Recycling old tyre to fuel oil machine
Doing recycling old tyre to fuel oil machine can help us recycling a large amout of old tyre,and we can get fuel oil ,carbon black and steel wire by pyrolysis technology.But do you know the detail working principle of this pyrolysis technology?How to recycling old tyre to fuel oil is the most
scientific.Choose equipment manufacture directly influence the oil yield and
handling of environmental assessment procedures.
Recycling old tyre to fuel oil machine
Firstly, we put raw materials into reactor by auto-feeder, then heat the reactor with coal/ wood/natural gas/oil.when the temperature reach around 250 degree celsius oil gas will produce.

Secondly, liquid oil will be cooled out by cooling system from oil gas, which is collected by oil tank.

Thirdly, the waste gas which can not be cooled out in normal pressure will be recycled to heat reactor,not only saving energy, but also protecting environment.

Fourthly, the dark smoke produced by heating reactor can achieve national emission standard through dual desulfurization and dusting removal device.

Fifthly, the temperature of reactor will be low after we get oil, at this moment carbon black will be discharged automatically.

Lastly, when the temperature falls to 100 degree celsius, worker could put steel wire hook to reactor to take steel wire out, then another batch will be begin.

After the recycling oil tyre to fuel oil whole working process, you can get 45-50% fuel oil ,30% carbon black,15% steel wire ,5% gas.The maily final products-fuel oil sepcific application s are as follows: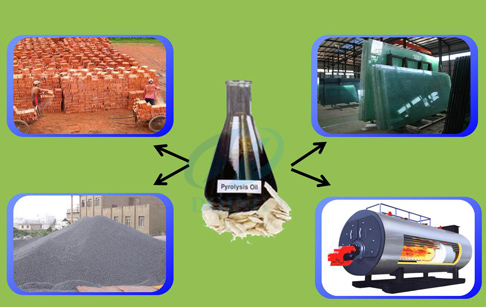 Fuel oil application
The tyre pyrolysis oil can be sold directly as fuel. Or be transformed into gasoline or diesel by the tyre oil distillation plant. The refined tyre pyrolysis oil can be used for heavy oil generator to produce electricity.Here are the detail usages of the tyre oil ti diesel oil working process,and the detail application of the diesel oil.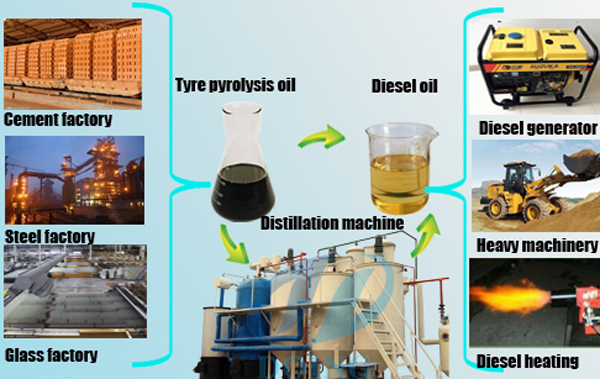 Tyre pyrolysis oil ti diesel oil and final application
Have you heared the waste fuel/engine/pyrolysis oil to diesel oil machine?Or you just have one set recycling oil tyre to oil pyrolysis plant and want to expand your buiness scale recently.Any situations ,welcome to consuting more detail information of both of those equipments at your free time!!