How to choose waste tire pyrolysis plant?
For customers who want to start waste tire pyrolysis business, they will firstly consider that how to choose the waste tire pyrolysis plant. Professional waste tire pyrolysis plants suppliers tell you that if you want to buy a set of suitable waste tire pyrolysis plant, you can refer to the following aspects.
1.Choose a reliable supplier
It is very important to choose a reliable supplier. There are equipment manufacturing companies and equipment trading companies on the market. The equipment manufacturing companies can produce machines in their own factories, while equipment trading companies need to buy machines from equipment manufacturing companies and then sell them to customers at higher price. Therefore, You can investigate the background of suppliers by browsing their websites, searching industry rankings, Alibaba platform inquiries, etc., to find some suppliers with their own production factories and long-established companies, to eliminate some newly established suppliers and trading companies.

2. Choose technology mature advanced and safe waste tire pyrolysis plant.
If you choose waste tire pyrolysis plant with immature technology and potential safety hazards, there will be many after-sales problems in the future, which will increase after-sales maintenance costs. So choosing reliable quality waste tire pyrolysis plant is very important.Doing Group waste tire pyrolysis plant's pyrolysis reactor adopts arc-shaped anti-pressure seal head,which are manufactured strictly according to the standard of pressure vessels. The round-shape seal head is one piece design,which has very strong tension and good connection with the reactor body, thus could not be cracked under high pressure and high temperature. Doing Group waste tire pyrolysis plant adopts 3 steps cooling system,which can increase the contact area of oil gas,thus to get fully cooling effect and high oil output.
3. Choose a professional supplier with an experienced installation team
Waste tire pyrolysis plant is not like a small product or common used daily supplies, without the professional instruction or guidance and training, it's very hard for anyone to install and operate the waste tire pyrolysis plant well. So before you choose to buy the waste tire pyrolysis plant, better at first to make sure the supplier is professional with an experienced installation team, which could give you a better after-sale service after you spent the money on the machine. Henan Doing's engineers with over ten years' waste tire pyrolysis plant installation experience will be dispatched to your place to provide technical service in guiding plant installation, plant commissioning as well as worker training, enabling your workers to master all the operating skills needed and can operate the plant on their own.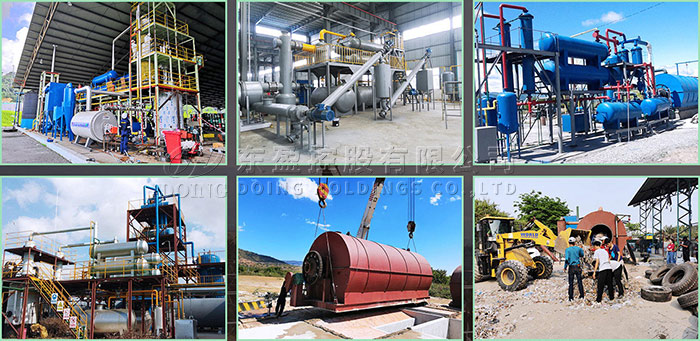 In addition to the factors mentioned above, there are many factors affect the waste tire pyrolysis plant quality. Doing Group suggests that customers should consider comprehensively when purchasing equipment. If you want to buy the waste tire pyrolysis plant at factory prices, please contact us feel free.