DOING company, as the pioneer of Waste tyre oil plant manufacturers , experienced many years of ups and downs, we never stop our pace and always keep continuous innovation and development. We have successfully established more 100 sets of Waste tyre oil plants around the world. Our pyrolysis machine buyer come from Brazil, Italy, Romania, Thailand, Russia, Lebanon, Guatemala, Jamaica, Mexico, Pakistan and India and many other foreign countries. Honesty is our principle in international trade, it brings us friendships with customers and build up a fine reputation in the market. Welcome all the old and new friends visiting our factory.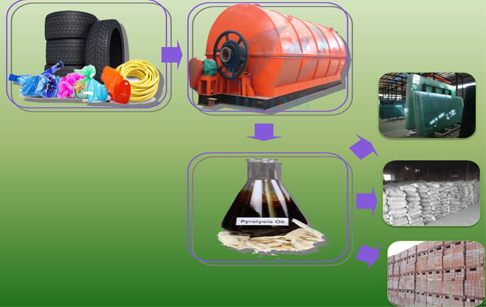 Waste tyre to oil plant
Special technology of Waste tyre oil plant

  1. Doing Waste tyre to oil plant adopts advanced low temperature pyrolysis technology, implement the continuous industrial production, and fundamentally eliminate the environmental and safety concerns.
  2. With heating technology, unique heat dispersion heating process, and low temperature sulfur transfer agent to heat materials evenly, it not only makes high oil yield, but also ensures the good quality of oil and carbon black.
  3. Combustible gas from production can be reused in heating system after purification. And taking advantage of waste heat recycling technology, so our Waste tyre oil plant can reach high thermal efficiency and reduce the production cost greatly.
  4. Low temperature pyrolysis technology greatly improves the safety performance and equipment service life.
  5. Special flue gas purification system of doing waste tyre oil plant can remove all pollutants in flue gas, H2S, CO, CO2, SO2, SO3, NOX, NH3 and other organic compounds and solid particles, so that the emission index has meet the high standards of Europe and America.