Setting up pyrolysis plant projects has a high popularity all over the world. And it can bring great benefits to customers by recycling waste into fuel oil. Many kinds of petroleum derivatives wastes can be disposed of and recycled by pyrolysis plants, including rubber, tires, plastics, oil sludges, etc.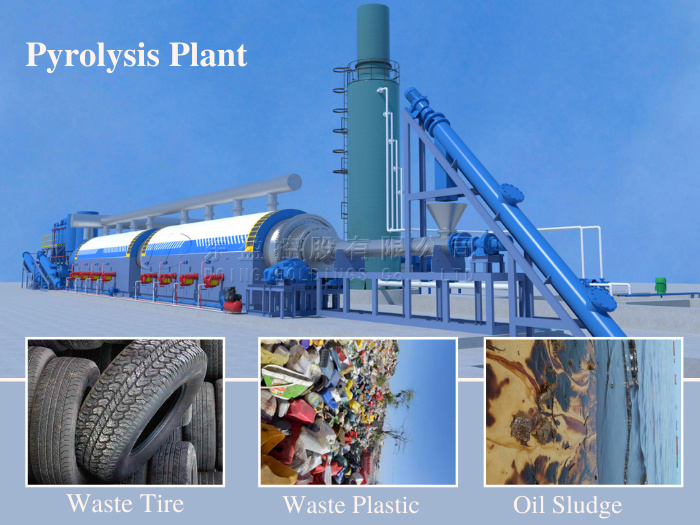 Henan DOING waste tyres/plastics/oil sludge pyrolysis plant
1. Waste tires
There are a large number of tires that can be disposed of and recycled by pyrolysis plant. The tires have different specifications in components and size. The majority of tires are car tires, truck tires, bus tires, off-the-road tires, industrial tires, agricultural tires, motorcycle tires, bicycle tires, tires, etc.
2. Waste rubbers
There are many kinds of rubber that can be turned into oil, including natural rubber, neoprene rubber, silicone rubber, nitrile rubber, styrene-butadiene rubber (SBR), ethylene propylene diene monomer (EPDM), fluorosilicone rubber, butyl rubber, etc. They are made into shoes, household items, and other things.
3. Waste plastic
Plastic-made products are very common to see in our daily life, for example, plastic bags, bottles. They are applied to every field in our lives. DOING provides the waste pyrolysis recycling methods for different types of plastics, such as PE, PP, ABS, paper-mill waste, plastic sheets, plastic logo, plastic cable sheath, etc.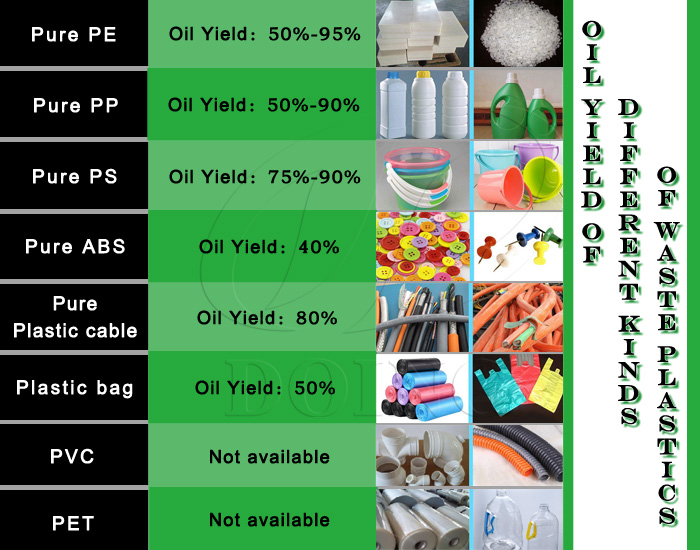 Different plastics has different oil yield
4. Waste oil sludge
The oil sludge will pollute the soil and air if the industry can't deal with oil sludge well. Pyrolysis technology is a good way to recycle oil sludge, like landed sludge, tank bottom sludge, ground oil spills, oily sludge from refineries, etc.
And we have to say that compared with the waste recycling ways like burning, landfills and burning, the pyrolysis recycling way is relatively environmentally friendly and can take full use of waste and convert them pyrolysis oil. It has a high value in the market.
If you want to engage in the waste recycling pyrolysis plant, just feel free to contact us. DOING offers different kinds of pyrolysis plant for customers with different needs, including mini pyrolysis plant, batch pyrolysis plant, and continuous pyrolysis plant. And we have mature waste pyrolysis plant projects for your reference.